Published April 19th 2011 by Harlequin Teen
ISBN 0373210264 (ISBN13: 9780373210268)
Primary language: English
Original title: The Goddess Test
Series: Goddess Test #1
"
It's always been just Kate and her mom—and her mother is dying. Her last wish? To move back to her childhood home. So Kate's going to start at a new school with no friends, no other family and the fear her mother won't live past the fall.
Then she meets Henry. Dark. Tortured. And mesmerizing. He claims to be Hades, god of the Underworld—and if she accepts his bargain, he'll keep her mother alive while Kate tries to pass seven tests.
Kate is sure he's crazy—until she sees him bring a girl back from the dead. Now saving her mother seems crazily possible. If she succeeds, she'll become Henry's future bride, and a goddess."
**I read this book forever ago, and didn't realize I never fleshed out this review from the notes I took while reading. So this will be a mini-review of the cleaned up notes**
Kate was a sweet girl that kept to herself to avoid attaching herself to anyone. She cared for her sick mother and missed out on a lot of teenage exploits to do so. I loved that she never really seemed too put out about it.
A few things that kept me from absolutely loving this book:
While Kate was doing what most people would do in order to save her mother, she tended to have that idea about every other situation, too. Somehow everything was her fault and she had to fix it. That martyr mentality really got old. As I said, Kate was a very sweet character, and while the ending does bring this issue to light, it was still something that nagged at me.
Henry had lost the love of his life, and you could feel how much that affected him. However, I felt like he was way too distant and put off to Kate most of the time. They did have their romantic moments, but they were usually ruined by his near constant petulance. I understand that he had had his heart broken numerous times, and perhaps I'm being a bit callous, but I just didn't swallow that Kate would fall for him so hard.
I also found it hard to believe that Henry and the other gods didn't figure out who the villain was over the course that many years. Barring those few issues, I enjoyed The Goddess Test and the unique story that Aimee Carter has offered up. It really made me want to revisit Greek mythologies.
**I have since read and loved all of the following books. Check this series out!**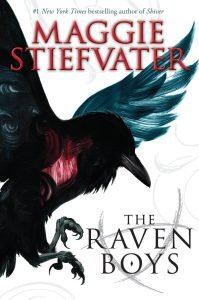 The Raven Boys by Maggie Stiefvater
Hardcover, 409 pages
Published September 18th 2012
by Scholastic Press
ISBN 0545424925 (ISBN13: 9780545424929)
Series: The Raven Cycle #1
"There are only two reasons a non-seer would see a spirit on St. Mark's Eve," Neeve said. "Either you're his true love . . . or you killed him."
It is freezing in the churchyard, even before the dead arrive.

Every year, Blue Sargent stands next to her clairvoyant mother as the soon-to-be dead walk past. Blue herself never sees them—not until this year, when a boy emerges from the dark and speaks directly to her.

His name is Gansey, and Blue soon discovers that he is a rich student at Aglionby, the local private school. Blue has a policy of staying away from Aglionby boys. Known as Raven Boys, they can only mean trouble.

But Blue is drawn to Gansey, in a way she can't entirely explain. He has it all—family money, good looks, devoted friends—but he's looking for much more than that. He is on a quest that has encompassed three other Raven Boys: Adam, the scholarship student who resents all the privilege around him; Ronan, the fierce soul who ranges from anger to despair; and Noah, the taciturn watcher of the four, who notices many things but says very little.

For as long as she can remember, Blue has been warned that she will cause her true love to die. She never thought this would be a problem. But now, as her life becomes caught up in the strange and sinister world of the Raven Boys, she's not so sure anymore."


Sometimes a book captures you so completely that it's hard to write a review for. The words I initially came up with didn't seem like they would do it justice. Simply put, The Raven Boys completely blew me away and gripped my soul. I love all things Maggie Stiefvater. She has such a lyrical way about her writing that never fails to capture me from the start. Whether it be broken boys and wolves, man-eating horses that come from the sea, faeries or private school boys and the daughter of a psychic, Maggie always delivers.
The Redemption of Callie and Kayden
by Jessica Sorensen
Kindle Edition, 336 pages
Published July 30th 2013
by Forever
ASIN B00BOTU4PC
Series: The Coincidence #2
Genre: NEW ADULT
"The dark secret Kayden has kept hidden for years is out. Worse, he's facing charges for battery. The only way he stands a chance against the charges is if Callie speaks up, something he'll never ask her to do.

Callie knows Kayden is going back to his dark place and desperately wants to save him. But saving him means admitting her secrets aloud. Callie and Kayden are stronger than they think, especially when they're together. Together they move forward, face their demons, and finally start to heal from their traumatic pasts."


The second installment of Jessica Sorenson's 'The Coincidence' series is absolutely worth of the five stars I gave it. In my opinion, it was even better than the first book. Callie and Kayden will forever be on my list of favorite characters. Even though their situations were horrible, witnessing them run, struggle and learn to cope with what's happened to them, this story was absolutely addicting. I started reading this at 9pm and kept reading until I finished at 2:13am. I knew once I started it that I wouldn't be able to stop until the very end, and I was involved enough to give up sleep for the sake of finding out what was happening.
The Coincidence of Callie and Kayden
By Jessica Sorensen
Kindle Edition, 336 pages
Published December 13th 2012
ASIN B00ANDLC6K
Series: The Coincidence #1
Genre: NEW ADULT
"There are those who don't get luck handed to them on a shiny platter, who end up in the wrong place at the wrong time, who don't get saved.

Luck was not on Callie's side the day of her twelfth birthday when everything was stolen from her. After it's all over, she locks up her feelings and vows never to tell anyone what happened. Six years later her painful past consumes her life and most days it's a struggle just to breathe.

For as long as Kayden can remember, suffering in silence was the only way to survive life. As long as he did what he was told, everything was okay. One night, after making a terrible mistake, it seems like his life might be over. Luck was on his side, though, when Callie coincidentally is in the right place at the right time and saves him.

Now he can't stop thinking about the girl he saw at school, but never really knew. When he ends up at the same college as Callie, he does everything he can to try to get to know her. But Callie is reserved and closed off. The more he tries to be part of her life, the more he realizes Callie might need to be saved."
The Coincidence of Callie and Kayden is a wonderfully written story about multiple lives that were unfortunately grounded in abuse of different forms. The situations these kids (showing my age, here. They're in college) had to endure we're absolutely heartbreaking. This review is coming from my second read through, and it was just as wrenching and addicting as the first time I read it.